Allison is nestled along the picturesque White River, at the crossroads of Highways 5, 9, and 14, just a scenic 5.9-mile drive north of the charming town of Mountain View.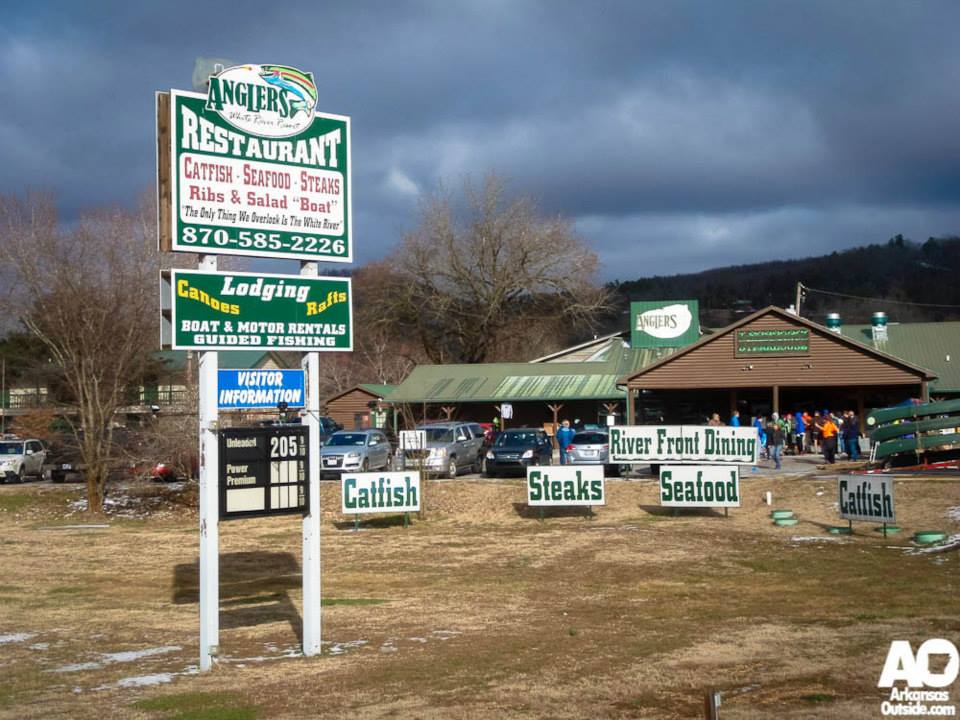 Check-in, Race Start, and Finish Location:  Anglers Restaurant in Allison, AR
Check-In Date and Time:
Friday, February 16, 2024 – 4 p.m. – 9 p.m.
Saturday, February 17, 2024 – beginning at 6 a.m.
Check-in will be held on the front porch of Anglers Restaurant in Allison, AR.
50K Race Start Date and Time:
February 17, 2024 – 7 a.m.
25K Race Start Date and Time:
February 17, 2024 – 8 a.m.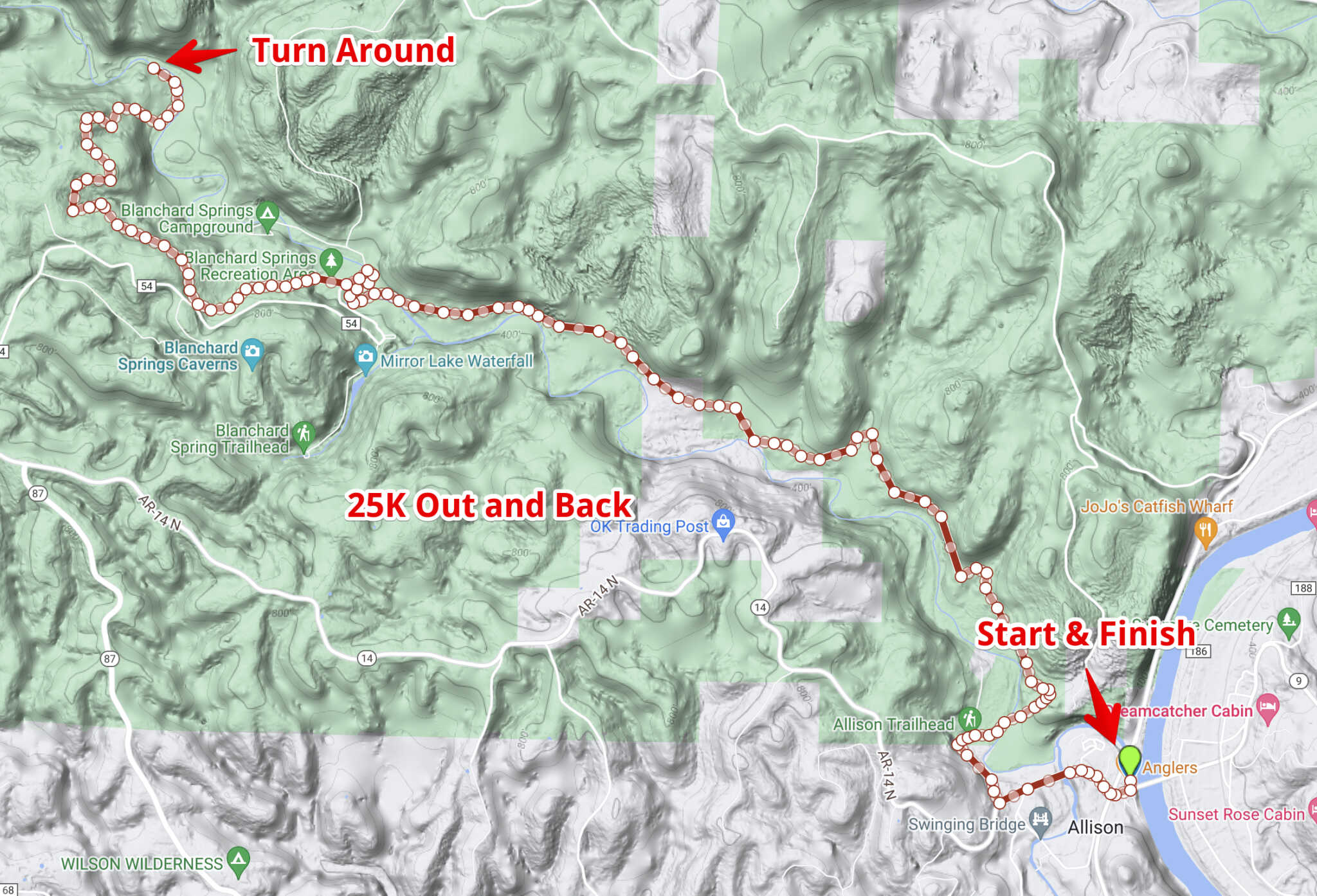 The Sylamore 25K course is nestled in the enchanting vicinity of Blanchard Springs Caverns and offers a captivating out-and-back course that spans 7.5 miles of rustic trails and a mile of pavement. Along this scenic journey, you'll encounter the allure of crossing Sylamore Creek twice, one at the 2-mile mark and another at the 15-mile mark, adding a touch of natural beauty to your adventure.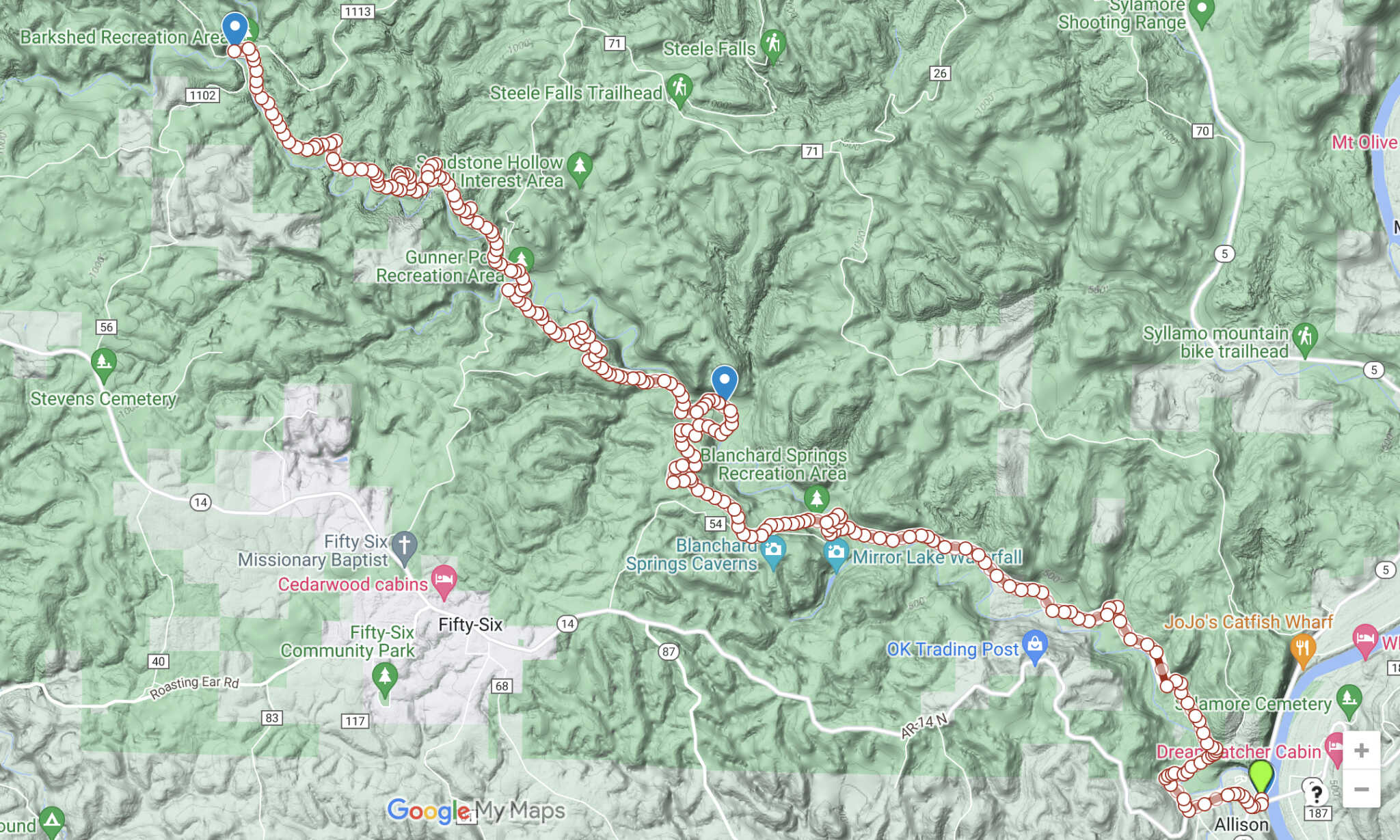 Beginning at the Angler White River Resort, the 50K race route will take you on a captivating adventure, leading you through Sylamore Creek twice – first at the 2-mile marker and then again at the 31-mile marker. Following the course, you'll pass through the Blanchard Springs Recreation area and be treated to breathtaking vistas as you travel to the Gunner Pool Recreation area and the scenic Barkshed camping area. This course is designed as an out-and-back trail, ensuring you can savor the natural beauty twice over.
Click Here to Download 50K Map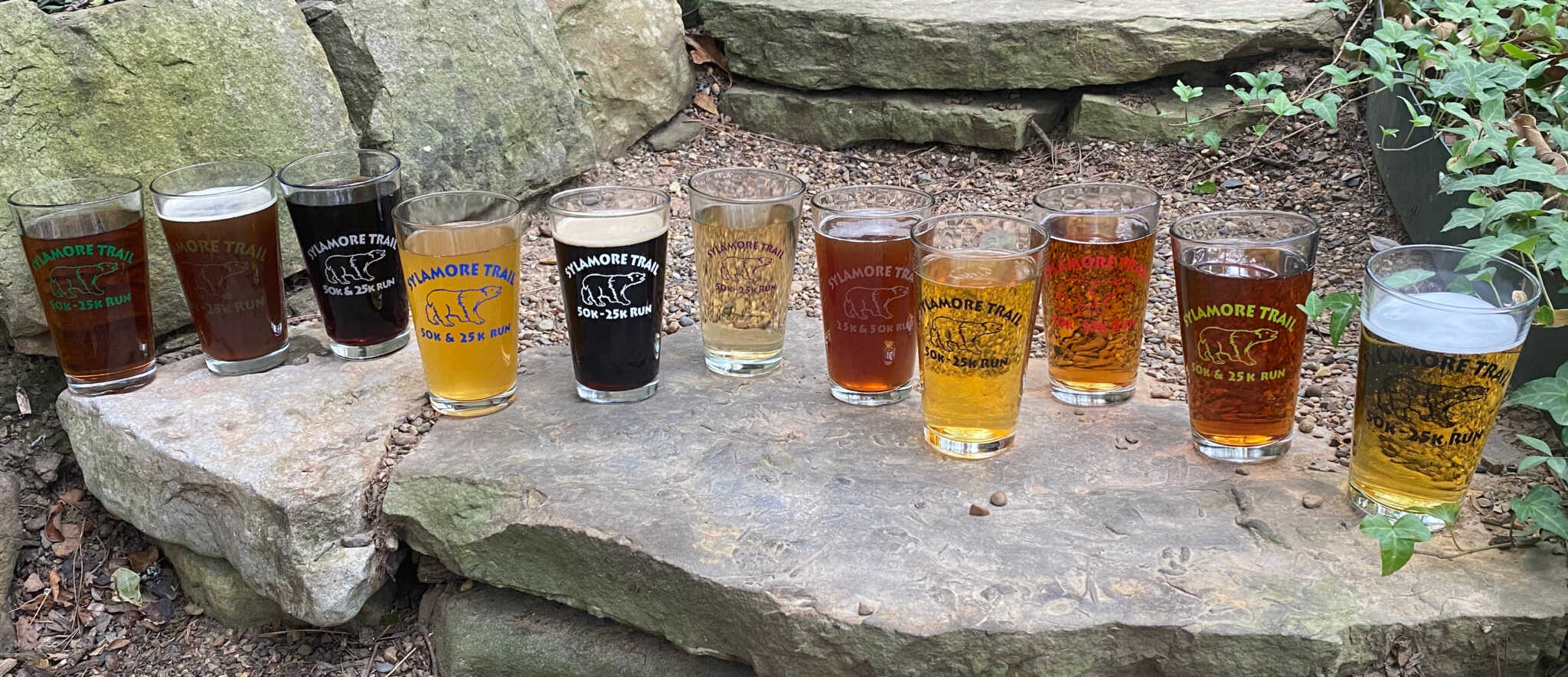 Every finisher will receive a Sylamore Race finisher pint glass.
Awards for Male and Female overall winners
50K: $100
25K: $100
NO REFUNDS
NO DAY OF RACE SIGNUP
NO INCLEMENT WEATHER POLICY
No refunds means no refunds, no inclement weather policy means there is no inclement weather policy. Regardless of weather or course changes, the races will go on as scheduled. Again, no refunds, and no inclement weather policy. No exceptions.
In February, Arkansas weather can be freezing or in the 70s. Be prepared for any weather conditions and dress accordingly.
This course is a well-traveled hiking trail & is marked with blue rectangular blazes. We will not place additional markings on the trail. However, we will use tape to mark aid stations and use flour to mark areas where the trail enters and leaves roads.
You will need to carry a water bottle. Aid stations will be approximately five miles apart. Water, Gatorade, soda and food items will be provided. NO DROP BAGS.
50K and 25K: 9 hours. This is strictly enforced. The finish line closes at 4:00 P.M.
David Riddle (2011) – 3:31:44